Between September 24th – October 5th 2016, The Convention on the International Trade of Endangered Species of Wild Flora and Fauna (CITES) is meeting for its 17th conference in Johannesburg, South Africa. It's the biggest deal for wildlife that you may not know about, and this year is a turning point unlike any other. Wildlife protection is one huge arm of the fight to end illegal wildlife trade – what is decided and discussed here will determine survival, or not, for 500 species.
Mighty CITES
CITES is perhaps the most renowned, as well as the oldest, international treaty in existence that offers protection for wildlife, both plants and animals. CITES creates guidelines surrounding trade regulations which inform governments on the dangers that plants and animals face to their health and conservation, if they are traded. CITES has three appendices that deem to what extent the species can or should be traded. There are more than 1,200 species in appendix I and these include tigers, lions, chimpanzees, mountain gorillas, etc. CITES recommends that none of these species should be traded commercially, and all of the CITES member countries have instituted laws to stop the trade of these species. Similarly, appendix II has less strict regulations, and appendix III are species that may or may not be threatened, but their trade needs to be controlled. Therefore, The treaty provides a framework, which the signatory countries utilize in constructing laws to protect their biodiversity, specifically from illegal trade.
CITES in 2016
The CITES conference aims to bring about changes in protection status for 500 species. Currently there are more almost 35,000 species that are listed in the CITES agreement. Some species that will be highlighted at the conference have been featured on our website before, such as: pangolin, African elephants, African grey parrots, and more. One of the great focuses will be the trade in ivory. An average male African elephant's tusks weigh around 250 lbs, and with each pound fetching almost $1,500, the trade is very lucrative. Since the conference is in Africa, there is an expectation that the South African government will call for stricter laws surrounding elephant protection.
In the digital age poachers and traffickers are finding new and innovative ways to conduct criminal activities. Other issues such as cybercrime, sale of animals online using social media, and the use of forensics to track down poachers and investigate wildlife crime, are some of the topics that will also be presented. These methods of bypassing typical trade pathways is a massive barrier to wildlife protections, and is something that urgently requires proper reporting tools on these platforms to help combat.
Of the 62 proposals wildlife protection, and 100 working documents from 182 delegate countries, one of the most important is the draft resolution for the fight against corruption.
Wildlife on the Line
It is believed that this year CITES has organized the largest ever international call to action on wildlife, with over 2,500 delegates hailing from the 180 member countries in participation. Due to the uptick in illegal wildlife trade and trafficking, critical issues such as these will be on the table. The IUCN World Conservation Congress held in Hawaii, earlier in September is expected to inform some of these important decisions. Dr. Jane Goodall was one of the speakers at the congress, and she highlighted the conservation challenges that some of our most beloved animals and plants face.
Stop Wildlife Trafficking in its Tracks
Jane's Traffic Stop is a international social media campaign to bring awareness to, and help put an end to illegal wildlife trafficking. Species on every continent are suffering some form of danger due to this criminal activity that has organized and become a great cause for concern for several dynamic species. Through education, laws, and public action we can help be the change. Our Change.org petition, which now has nearly 300k signatures, focuses on CITES as one of the centers for conservation that will acknowledge all you contribute in voicing your want to save wildlife. You can learn more about Jane's Traffic Stop, and follow us on facebook [Dr. Jane Goodall and the Jane Goodall Institute], twitter or Instagram (@janegoodallinst) . You can become a champion for change, and use your voice to speak up against wildlife crime.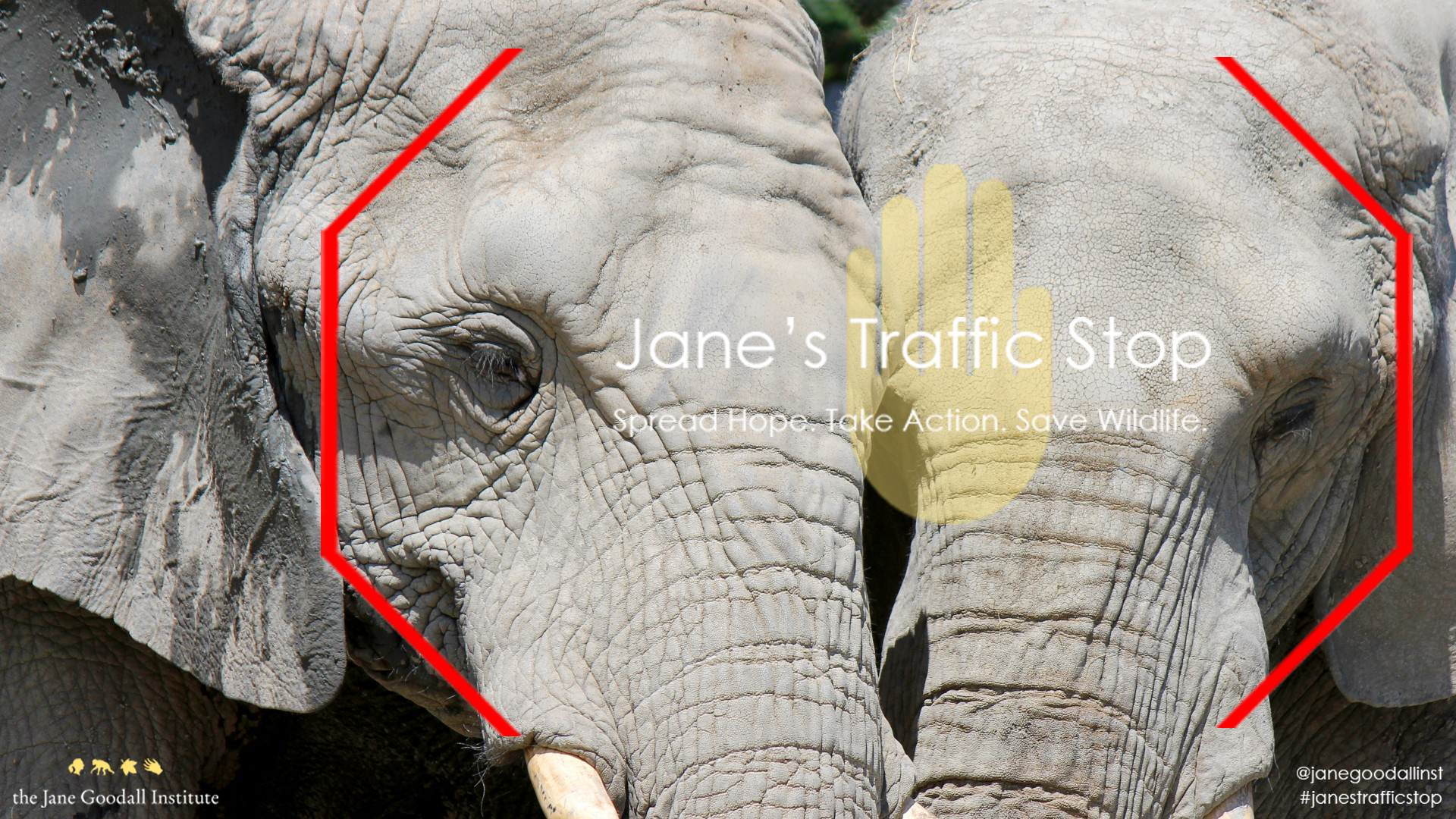 September 24 is also a march against extinction for rhinos and elephants. 130 cities around the world participated in the 2015 Global March for Elephants and Rhinos, will you add to the march in 2016?