World Environment Day is on June 5th, and the theme is Go Wild For Life: Zero Tolerance for the Illegal Wildlife Trade.
So many endangered species fall victim to the illegal wildlife trade, and from the immense African elephant to the tiny pangolin, each animal taken from the wild to be trafficked is a significant loss to their species.
At the Jane Goodall Institute's Tchimpounga sanctuary in the Republic of the Congo, we care for some of the most vulnerable victims of the illegal wildlife trade…young chimpanzees.
Below are the stories of just a few of the over 150 chimpanzees living at Tchimpounga. These chimpanzees came to our sanctuary under awful circumstances due to the illegal wildlife trade.
---
DouDou arrived at Tchimpounga wearing a heavy chain around his neck, a remnant of the years he spent in isolation chained to an abandoned car. The chain had been on his neck for so long that even when it was removed, one could see exactly where on his neck it had been, as all the hair had rubbed away.
DouDou had spent years tied to that car, in the backyard of a police officer. Without contact with other chimpanzees, DouDou suffered greatly not only physically but mentally as well. Chimpanzees are very social animals, and to force a chimp into a life of solitude is incredibly cruel.
Initially wary and frightened when he came to Tchimpounga, DouDou has come a long way from the life he once led. He is now able to interact with others who, like him, are learning to enjoy just being chimpanzees.
---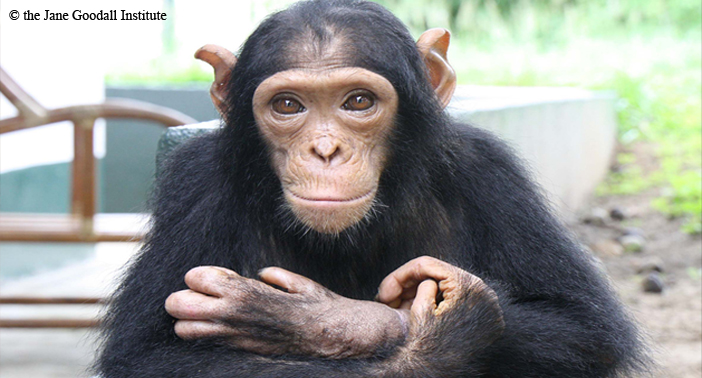 Motambo

Motambo is lucky to be alive. This young chimpanzee was confiscated from wildlife traffickers in 2012, and when he arrived at Tchimpounga, the outlook for his survival was grim. Suffering from some of the worst injuries that the Tchimpounga staff had ever seen, Motambo needed immediate emergency care.
In addition to a broken collar bone and painful gashes on his hip and wrist, likely caused by an illegal snare trap, Motambo was also suffering from a severe tetanus infection. He was so sick that he couldn't move his limbs or even open his mouth enough to eat or drink.
Thankfully, the expert care of JGI's staff was able to save Motambo's life. He now lives with other young chimpanzees at Tchimpounga, and has made a full recovery from his injuries. We are so happy that he was strong enough to pull through, but we wish that he had been left in the wild, with his family, where he truly belongs.
---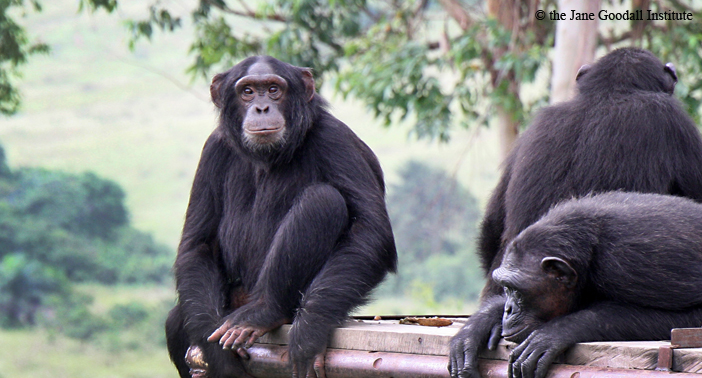 Luc

Luc is a gentle chimpanzee whose sweet nature has made him a favorite with JGI caregivers and chimpanzees alike. While he now resides on one of Tchimpounga's new island sanctuary sites with a group of his chimpanzee peers, his life was once in serious jeopardy due to the illegal wildlife trade.
We believe that poachers took Luc from his mother when he was very young. They then sold him to a restaurant in the Democratic Republic of Congo, which used the frightened young chimpanzee as a 'window display' to attract more customers. When Luc grew older, stronger, and more difficult to control, he was again handed over to wildlife traffickers.
Luckily for Luc, he was confiscated by authorities before the traffickers could sell him again, and Luc was brought to Tchimpounga. Not only was Luc now safe from the wildlife trade, he also became "famous" after being featured on Congolese TV when his rescue and the arrest of his captors was reported.
---
Hurt, maimed, sick, and taken from their mothers at a very young age, these chimpanzees eventually found sanctuary at Tchimpounga. However, that is not the case for hundreds of other young chimpanzees who are still part of the illegal wildlife trade.
Please consider making a donation to the Jane Goodall Institute in honor of World Environment Day, and help JGI ensure that wild chimpanzees remain in the wild.